Today's Workout:
5 Miles @ Who know's what pace
On my schedule for today I had a 5 mile run planned. My garmin didn't work as soon as I started running so I just ran with out it. I didn't want to waste time trying to figure the darn thing out. Overall, my run went well. It was probably the best runs I have had in a while. I didn't beat any records or anything like that. I just felt good running and didn't even need a walking break!
Last week was the start to my marathon training and I skipped two runs, the long run and intervals (the most important runs). I didn't have a great 1st week of training and instead of coming up with a bunch of excuses why; I am going to move on and make this week an awesome training week.
"There arent nearly enough crutches in the world for all the lame excuses." ~Marcus Stroup
The weather is starting get cooler in Washington State. It's time I need to revamp my running clothes. Have any of you seen these hoodies from
TheRelayRunner
?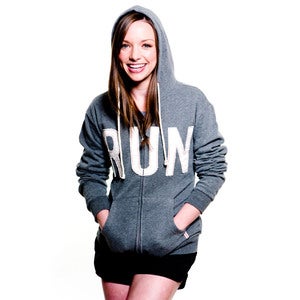 I want this hoodie!!
Everybody travels. My family and I are in the middle of a PCS (Permanent Change Of Station). We just moved from Japan back to the States. I have been living in a hotel since June 30th and won't be in my own place until Sept 15th. By the time I move back into a house, I will have been on vacation for two and a half months.
One thing is for certain when going on vacation. Our normal routines get completely thrown out of the window!
I am still running and going to the gym but my eating habits have been horrible since I left Japan. I have been allowing myself to eat whatever I want "because I am traveling." Not surprisingly, my fitness progress has backpedaled. I have packed on a few pounds and it is effecting my runs. I seem much slower :/ I was doing soo well before I left Japan too. I was eating healthy and clean, working out 6 days a week (Running, lifting weights or doing Insanity). I'd hate to spend two weeks after getting in to my new home trying to get back into a rhythm. I don't want it to be to late and feel like I am starting over. I will NOT start over. If I were to say "I'm starting over" that would imply that at some point, I had stopped. Quit. Ceased to try.
Here's what I am going to do to stay on track.
Make eating a priority.
You cannot out run a bad diet, and you can't out train it either.
Do the best I can. We will be eating out a lot. More than likely we will have dinner at an unhealthy restaurant. These things happen.
Teddy Roosevelt said it best: "Do what you can, with what you have, where you are."
Plan ahead. I will focus on maximizing on the good stuff (meat, vegetables, fruits, nuts and minimize the bad stuff (junk food, processed grains and carbs, sugary beverages, etc.). Sounds too easy to be effective, but it's not – if I plan ahead, it IS that easy.
Stay Active. I will stick to my marathon training plan. I'll be lifting weights and adding Insanity in to the mix :) Insanity will have to wait till we get into housing.
I'm thinking about buying one of these. Does anyone else have a 6 pack cooler or do any of you pre make your meals for the week?